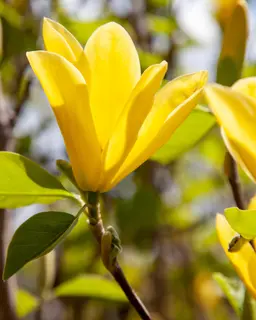 Magnolia 'Daphne' is an unusual yellow flowering Magnolia with an upright habit reaching approximately 250cm to 300cm in height.
The deep yellow tulip-shaped flowers are produced from April to May after the late frosts have passed. 'Daphne' is considered one of the strongest yellow flowering Magnolias in the market, retaining its colour as the flowers fade.
This delightful Magnolia option has a compact rounded habit perfect for small gardens and flowers at a young age giving great ornamental value.