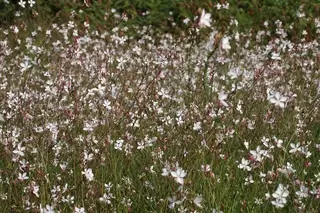 Gaura is a totally laid back, chilled plant that reward with an abundance of flowers from May through to October.
Their open relaxed habit lends itself well to mixed border planting and they are often referred to as 'gap fillers' which they do undeniably well, but they can be so much more than that. Planted in containers, with grasses, in large drifts amongst herbaceous summer flowering geranium and Agastache, in fact pretty much anywhere in the sun to partial shade Gaura will delight with a mass of flowers over a long period. It can be used to much effect to soften path edges too.
The flowers have long anthers and are held on slender, graceful, slightly wafty stems in shades of white, pink, bicolour and darker pink dependent on variety.
The foliage takes on a red tinge in the late summer to autumn. Cut back in the spring to regenerate new spring growth.
Sometimes purple-brown spots can appear on the leaves, this is due to cold weather and does not harm the plant at all or affect growth. The colouration will disappear in warmer weather.