Shrubs provide flower, berry, shelter, nesting sites, nectar for insects, pollen sources for bees and areas for bugs and beasties to hide that birds feed on. You have to have at least one shrub in a garden design that is attractive to bees and butterflies. Shrubs obviously have a long flowering period depending on plant choice that will provide food sources for a long period of time.
The longer you can have plants in flower for the better for pollinating insects. In this section of attracting wildlife to gardens we are highlighting plants that provide nectar and pollen sources from spring to autumn.
• Sarcococca flowers early in the year with scented white flowers that are attractive to early emerging bees.
• Lonicera x purpusii has lovely scented flowers in the winter months through to February
• Mahonia produce pinnacles of yellow flowers in the winter months through to March
• Enkiathus produce dainty pendulous flowers between March and May and are usually covered in bees
• Stachyurus is a gem of a plant anyway with graceful arching stems and pendant racemes of pale yellow flowers from March to April just as the bees are starting to get busy.
• Berberis darwiniii has bright orange flowers that bees seem to absolutely love in the spring
• Buddleja is known for attracting butterflies and bees. In fact it is quite unusual to see an image of a Buddleja in flower without a bee or butterfly on them! There are some great compact varieties available on site if you require something for the smaller garden. The Buzz varieties are compact in growth reaching 60cm in height. Of course all Buddleja can be cut back hard to control the overall size.
• Perovskia has upright spikes of lavender blue flowers in the summer that are awash with bees.
• Pyracantha flower in the summer months in abundance. The bees will be all over it busy pollinating that will later on produce the berries for the birds in the autumn.
• Hebe come in a wide range of flower colours and flower from May onwards. Bees love Hebe and they are a great choice for attracting pollinators.
• Phlomis have an unusual flower formation but this does not put the bees off at all. The bright yellow flowers of Phlomis fruiticosa appear over soft grey foliage and are a great choice for Mediterranean gardens too in a sunny position.
• Viburnum opulus produces its snowball like white scented flowers in the summer. This lovely option is happy in a woodland environment.
• Lavandula just has to be in this section. When was the last time you saw a Lavandula without a bee?
• Erysimum is another plant that will flower all summer long. Bees will find this irresistible and will return again and again.
• Abelia has lovely scented flowers in late summer through to autumn that attracts bumblebees and honeybees.
• Hydrangea paniculata attracts bees later in the year. The paniculata types tend to attract more bees than the traditional mophead Hydrangea.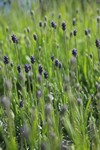 Enkianthus Hebe Hydrangea pan Lavandula Mahonia Perovskia Sarcococca Stachyurus