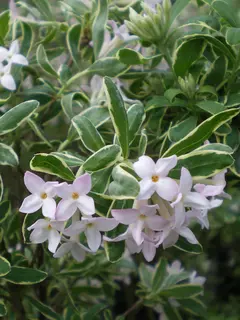 There is no more captivating scent than that of a Daphne. From February through to June the heady scent of Daphne fills the air.
Astrid

has a striking cream edge to each leaf. Highly scented pink flowers are held in clusters at the tip of the branches from May to July (shown in image)

Eternal Fragrance

has small tight pink buds that open to reveal white highly scented flowers from April to May and sporadically through the summer

Pink Fragrance

has all the same qualities as Eternal Fragrance above but with pink flowers.
Daphne prefer light shade, in a sheltered spot somewhere where the scent can be enjoyed in a soil with plenty of organic matter.