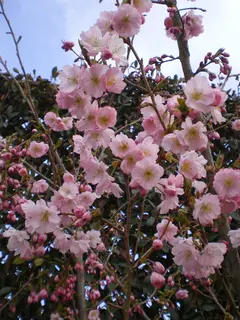 Prunus 'Accolade' is the first of the spring flowering ornamental cherries to burst into bloom on the nursery each year.
The deep pink buds are borne in profusion bursting open to reveal semi-double light pink flowers in March to April. The flowers hang in pendulous clusters and are delicate in both form and colour fading to a lighter pink as the flowers age.
Accolade is a popular option with a spreading habit and brilliant orange-red autumn foliage. Known to be pollution tolerant, Accolade is a result of a cross between Prunus subhirtella, known for its' early pink flower and Prunus sargentii, known for its excellent autumn leaf colour.
Accolade is an excellent choice for all soil types in full sun to partial shade. Height 6m. Spread 6m.