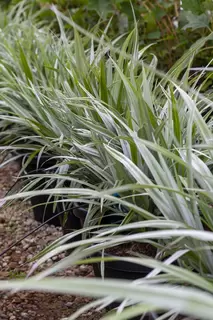 This evergreen foliage plant has drama, definition, bold foliage colour adding a touch of the architectural, exotic, Mediterranean and tropical look to beds, borders and containers.
Endemic to the Chatham Islands near New Zealand, Astelia are well adapted at dealing with coastal or exposed conditions. Astelia are pretty much trouble free being salt tolerant, drought tolerant, deer and rabbit resistant and pest and disease free.
Grown mainly for the strappy, sword-shaped silver-grey foliage Astelia are happy in full sun but truly thrive in partial shade which is unusual for a grey-leaved plant. They are best planted in rich, moist soil.
Excellent for coastal gardens and if planted in large numbers can really make a bold statement. Established plants will produce long stalks of flowers of pale yellow followed by orange berries.
In stock we currently have: