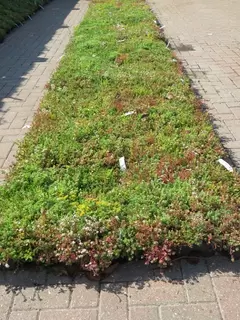 These green roof modules make creating a green roof almost child's play.
Mobiroof is foolproof. Clip together and walk away! Quick and easy to install. Suitable for use on untreated roofs.
Each module is planted with 4-6 different Sedum types for interest and year long colour and interest. Sedum are attractive to bees and butterflies so you are also increasing biodiversity as well as greening up otherwise neglected areas.
Ideal for flat roofs, sloping roofs, gazebos, garages, bicycle sheds, and most outdoor structures.
Each module is made from regenerated non-toxic polypropylene. Dimensions are 54 x 54 x 9 cm