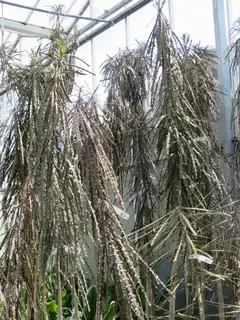 Pseudopanax ferox is endemic to New Zealand and is one of those plants that really divides opinion. It is a 'Marmite' plant. You either love it or it leaves you cold.
Forming an upright tree, the young plant has leaves that are narrow, toothed at the edges, marron central veins, leathery to the touch and bronze green in colour hang stiffly downwards at an angle to the stem. As the plant matures the leaves become darker and smaller. Definitely another worldly feel to this plant that looks like something from The Lord of the Rings or a sci-fi film.
Happy in sun to partial shade it can reach up to 4-6 metres in height but will take its time getting there.