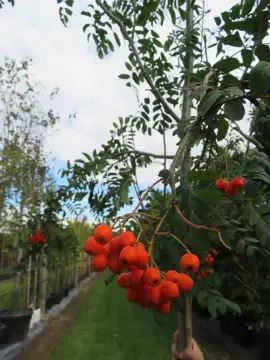 Sorbus are known for their ornamental value, autumn colour and of course autumn berry!
Sorbus are also a popular choice for attracting wildlife.
Today, we wanted to share Sorbus aucuparia with you all as they are looking great right now! Sorbus aucuparia are a rounded tree with mild to rich green leaves. In the autumn the leaves turn a deep red and yellow, adding that extra colour in the colder months.
In the late spring, expect to see tiny white flowers which are then followed by bunches of red berries in the autumn (as shown in the image).
We're looking forward to seeing some more autumn colour within the next few weeks – if we have any left in stock!
Tolerates most soils. Full sun.