Aquatic Plants
Aquatic plants and ponds are fabulous for creating wildlife and pond life havens attracting frogs (natural slug killers), dragonflies and an area for birds and hedgehogs to drink and clean themselves.
A well balanced pond should have a wide variety of plants which will provide different habitats. Aquatic plants can also help with keeping pond water clean – win, win!
Aquatic plants are pretty easy to look after just requiring planting in baskets using aquatic soil, planting at the right depth and trimming back the decaying foliage in the autumn
So much variety of flower, height and foliage can be found in aquatic plants. The beauty of them does not need to be confined to just pond areas, small water garden can be easily created in large waterproof containers.
When adding aquatic plants to a pond to encourage wildlife planting depths are key to the success of the plants thriving.
Pond Side Plants / Zone 1: These are moisture loving plants that enjoy having their roots in damp soil and must not be allowed to dry out. Conversely they must not be allowed to become waterlogged either. Plants should be planted in bog gardens and moist areas around a pond. Plants that enjoy these conditions are Gunnera, certain Ferns, Hosta, Iris sibirica, Lobelia and Primulas
Marginal Plants / Zone 2 & 3: These plants grow in shallow waters around the edge of a pond typically needing between 10cm and 45cm water depth. Many plant options provide colour and are great for providing clumps in the shallow water. These plants are especially important for wildlife providing platforms for emerging dragonflies, shelter for fish and tadpoles. With careful selection flower can be provided from February through to October. Plants that enjoy these conditions are: Acorus, Butomus, Cyperus, Equisetum, Iris, Lobelia, Mentha, Oenanthe, Pontaderia, Typha and Sagittaria.
Deep Marginals & Nymphaea / Zone 4: Plants in this zone grow in the deepest part of a pond with their roots rooted in the bottom or aquatic baskets. The plants typically have foliage and flowers on long stems that reach the water surface. The foliage and flowers provide cover for fish and aquatic life. The foliage also provides shade that reduces the growth of algae. Plants that enjoy these conditions are: Aponogeton, Nymphaea.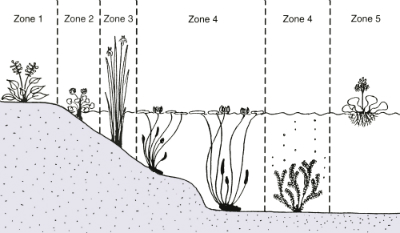 Pond Life
If you want wildlife in a garden environment then installing a pond is probably the best addition you could install. Water provides all essentials for wildlife including visiting birds, hedgehogs, mammals, frogs, newts, dragonflies and even bats!
Even the smallest of ponds can bring in an interesting range of wildlife. The most important part to consider when creating a pond is that mammals can get in and out. You can create a natural 'beach' type area using decorative aggregates and decorative stones. Always wash thoroughly before placing near a pond.
We stock Pond Liner 6m x 1m that is made of a rot resistant flexi liner. This liner is UV resistant, 1mm think and has overlapping welding seams.
We also stock Pond Liner Repair Kit and Pond Liner Tape.
If you have an existing pond and have issues with algae growth then you can treat the water naturally with Barley Straw – totally biodegradable and harmless to fish, plants and wildlife. Alternatively you could use Green Away which rapidly cleans green water and is naturally safe for fish, plants and water using wildlife.
Always use Aquatic compost and aquatic baskets when repotting aquatic plants.
Installing a pond