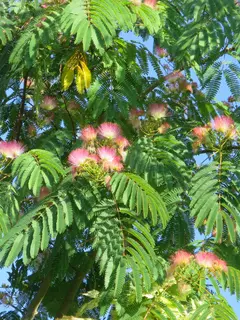 Albizia julibrissin 'Ombrella' (also known as silk tree) is a small exotic-looking deciduous tree. It has fluffy cherry-pink flowers which are produced in the late summer/early autumn and green ferny mimosa-like leaves that are composed of many small leaflets.
This small tree needs good drainage and full sun in order for it to thrive. Albizia julibrissin 'Ombrella' is hardy in most parts of the UK and can withstand up to -5°C.
Add Albizia 'Ombrella' to your garden for that extra WOW factor. It especially looks good in the following locations/garden types: sub-tropical, city and courtyard gardens, coastal, conservatory and greenhouses.