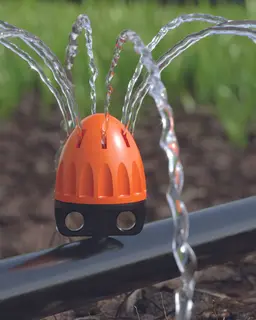 Our professional irrigation range has everything you need to set up an irrigation system to suit your client's needs.
Water-saving, durable and functional, our Claber irrigation range is easy to install, easy to use and made of long-lasting materials that do not degrade in UV.
Bringing together technology and design, efficiency and ease of use, the drip irrigation range is designed with you in mind. We stock all the components required to set up an efficient drip irrigation system that reduces water wastage.
The self-regulating dripper tube is designed to give even water distribution along the entire length ensuring each plant gets the same volume of water.
Any drip irrigation system should be set up with an automatic timer that are easy to programme and offer different watering cycles to suit your needs.