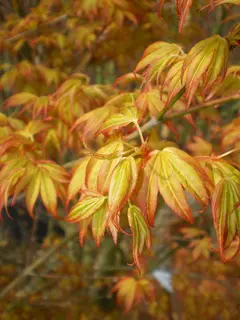 We have grown some Amazing Acers, some well-known varieties mingling with some more unusual options. We have selected a few to highlight from our selection of over 240 options on site.
Bi-Ho. Compact and cute to boot! This Acer provides all year round interest all in a 200cm height and spread. In the winter the bright yellow bark comes to the forefront. In the spring, the yellow-green leaves emerge flushed with pink before turning orange-yellow in the autumn. A real stunner as a feature tree.
Fireglow. As the name suggests this upright Acer puts on a delightful how in the autumn with foliage turning blazing scarlet. The leaves are red throughout the spring to summer aging to darker red as the growing season progresses.
Orangeola. A mounded option with weeping branches forming a strong attractive shape. The lacy foliage emerge orange in colour, changing to red-bronze in the summer before turning intense bright orange in the autumn This is one of my favourites – but don't tell everyone!
Katsura. Katsura has it all going on. Pale orange foliage with red margins in the spring, changing to yellow, then green keeping the orange red margins over the summer. In the autumn, Katsura comes alive with vibrant orange, yellow and red foliage. Katsura will reach a height of 600cm and spread of 400cm. An excellent choice for making a statement at any time of year. (Shown in the image).