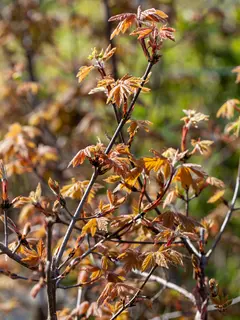 An excellent choice when a small tree is required. Known as the Paperbark Maple, the bark is dark cinnamon, in colour peeling away from the main trunk in long whorls creating interest all year round. The bark is thin and papery, hence the common name.
In the winter months, the peeling bark is more prominent adding colour and interest to the garden in winter months.
Before the winter bark display, the fiery orange -red autumn foliage is one of the main reasons this small tree remains a top tree choice.
Acer griseum will reach an average height of around 5m in height and spread over the years in partly shaded to sunny positions in slightly acidic soils for best colour.
A tactile tree choice, Acer griseum is one of our favourites.