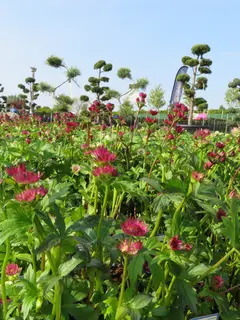 Astrantia are just a gorgeous little plant with the daintiest of flowers held in abundance above the deeply lobed foliage. The flowers appear in early summer and last through to July, although like everything this year, we're sure they will flower a little longer and later this year. Regular dead-heading will result in flowers until September.
The delicate flowers have little pincushion-like centres surrounded by papery, longer petals almost giving a star-like appearance.
Depending on variety, the flowers range in colour from white, red, silver pink, light pink, dark pink, crimson red, burgundy and all variants of these colours.
The foliage creates an effective ground cover which helps to keep the soil moist beneath. Best of all Astrantia are not tasty to snails and slugs.
Ideal for planting in dappled shade alongside Dryopteris, Hosta in moist, well drained, loamy, soil. Astrantia plant in groups of 3, 5 or any odd number for best effect.
Astrantia can tolerate being planted in sunnier positions as long as there is sufficient moisture around the root area. Plant with Salvia in sunnier positions.
Range from 10cm to 50cm in height.