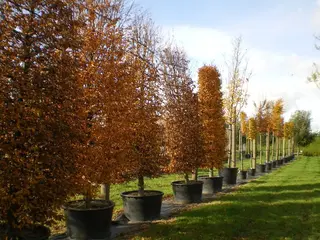 The Queen's Green Canopy is a nationwide initiative created last year to mark the Platinum Jubilee of Queen Elizabeth by creating a canopy of trees across the UK. A long term living legacy if ever there was one.
With the passing of Queen Elizabeth last year, the Queen's Green Canopy has been extended to the end of March to cover the ideal tree planting season.
With over a million trees planted so far, there is still time to add a commemorative tree, a celebration tree, a tree that represents the local community or school or a tree to enhance an urban area and encourage wildlife and become part of this living legacy.
There is an interactive map on the website where you can register your tree as part of the Queen's Green Canopy.
With over 3000 trees in stock and the best range of multi-stem trees we have ever held on site, now is the perfect time to get selecting and get planting to become part of this marvellous initiative.
With such a range of options, there are plenty to choose from in terms of size we have 12L to 1000L, 100cm to 600cm, multi-stem, standard and feathered.
Whether you are looking for buds, berries, bark, fantastic foliage, native, ornamental, great for birds and bees, fantastic flowers, our love of trees is reflected in the selection we have on site with a tree option from A right through to Z.
You can get involved and find out more information about the Queen's Green Canopy here
Check our tree factsheets on...