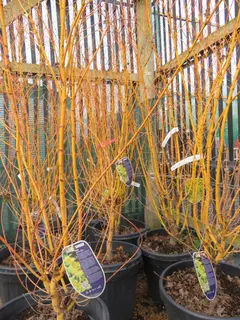 Acers are a surprise plant focus at this time of year as some have cracking winter stem colour. These two Acer options are shining through at the moment:
Acer palmatum 'Bi Ho' - Japanese Maple. A beautiful plant that has salmon flushed leaves in the spring inspiring yellow-green then yellow-orange in autumn with golden-yellow bark. Acer palmatum 'Bi Ho' likes moist but well-drained soil and full sun or partial shade spots.
Acer palmatum 'Sango Kaku' (Senkaki) is one of the most popular Coral Bark Maple trees, known for the stunning coral-coloured stems which are especially prominent in winter. Sango-Kaku has pretty fresh green maple leaves throughout the summer that turn soft orange in autumn before falling. Likes partial shade and moist, well-drained, slightly acid preferred soil.
Both of these options are excellent choices for small garden trees.