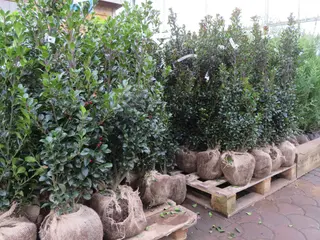 We are excited to share with you that we have some new root ball lines in!
Ilex meserveae 'Castle Wall' – also known as 'Hecken Star' is an upright, very hardy, evergreen shrub. The leaves are almost a blue-green colour, they are glossy and finely separated. Ilex likes slightly acidic, moist well-drained soil.
Ilex meserveae 'Castle Spire' – 'Blue Holly'. There is a beautiful contrast between the dark green, glossy, evergreen leaves and the bright red winter berries, making this root ball a great winter pick.
Thuja plicata 'Atrovirens' – is a fast-growing conifer that is large in size. It has an upright habit which is great for screens and hedges. This 120-140cm conifer can reach a height of 5-7 metres (16-22 foot) in around 10 years making it a perfect hedging option. Thuja plicata 'Atrovirens' also suit most soils.