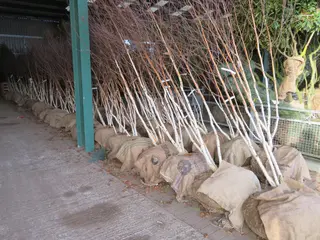 The Betula utilis jacquemontii (also known as Himalayan Birch) is a very popular tree, noted for its stunning, peeling, papery white bark which provides interest all year round but especially of note in the winter months.
These multi-stem Betulas have a good, strong branch network and would make a great specimen tree.
They are tolerant of most positions in sun or light-dappled shade.
We currently have lots of these in stock – ranging in height from 250-600 cm. Why not shop now?