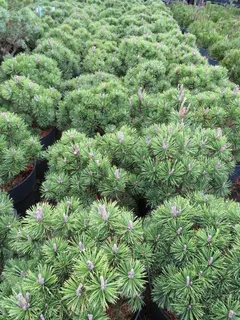 Pinus mugo or Dwarf Mountain Pine is such a versatile little plant.
A slow growing conifer with a rounded habit providing structure, colour and form all year round but especially of ornamental value in the winter months.
Slow and steady is the name of the game with Pinus mugo as they will take their time but you will enjoy every step of the way with them.
Highlighting some of our different types of Pinus Mugo
Winter Gold has the added interest of golden yellow foliage in the colder winter months.
Ophir has longer needles than average which turn golden yellow in the winter months.
Mops is one of the most popular options with the new needles having an almost silvery sheen to them.
Perfect in all soil types in full sun and drought tolerant once established.