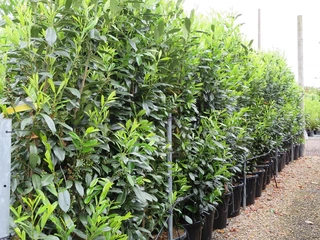 A fabulous option for hedging, the narrow, columnar plants Prunus laurocerasus Elly is a tight growing Cherry laurel that creates a neat upright hedge. If instant, crisp, healthy looking hedging is your thing, then look no further.
Elly has been available for a couple of years now and with its neat, tidy, upright growth is proving to be a bit of a hit. This new introduction has an elegant, slender habit with long dark green leaves that are held upright adding to the overall upright look to the plant.
Altogether a tidier option for hedging with little or no pruning required. Elly reaches about 3m in height and 80cm – 1m in spread. Elly is just as hardy as other Prunus hedging options and all the same requirements.