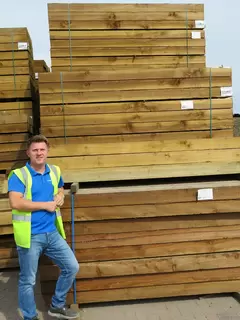 Pine softwood sleepers with clean crisp, straight edges making them the perfect choice for any building project in the garden. Pine softwood sleepers are less resistant to decay resulting in a longer lasting product. Raised beds, borders, seating or raised ponds, these larger pine softwood sleepers could be just what you need for your next build.
Lightweight and easy to cut to the desired length, each sleeper is treated to last up to 20 years outside. The treatment is completely safe to pets and children.
We have two choices in stock, both are larger than your average sleeper meaning you will need less for your construction and better strength to the wood. Most sleepers are 200mm x 100mm whereas ours measure 225mm x 125mm.
We have 2 lengths in stock
Use with Timber Fast screws made from hardened steel with hardened hexagonal heads and black coated for a corrosion resistant finish. Timber Fast screws are self-drilling. Perfect for joining sleepers and any other timber garden construction work. Hexagonal driver is included in each box. The ultimate in time saving timber screws.