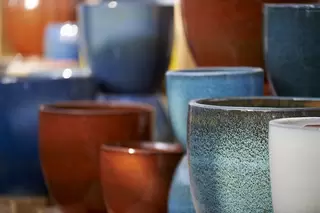 We must be potty! For 2 weeks only we are offering a massive 20% off ALL DECORATIVE POTS IN STOCK.
Between Monday 25th April to Saturday 7th May we will be reducing all of our decorative pots by 20%. Just in time for spring and summer planting.
We have a fantastic range on site, no matter what your style;
Lightweight. A range of fiberglass or plastic pots in fade resistant finishes. Round pots, cubes, troughs and elaborate finishes.
Glazed Ceramic. Shapes and sizes for every occasion. Tapered squares, egg pots, tall, vases and bowls in a range of glazed finishes.
Terracotta. For that traditional look to Lagoon Bowls, Standard Flowerpots and much loved Long Toms.
Troughs, Planters and Window Boxes. A range of planters including Cilindro with built in wheels for easy movement, troughs with inbuilt watering systems for easy watering and traditional metal troughs for that rustic look.
Oceanstone finish. Blue and black oceanstone available
Come and grab what you need for this summer's display while you can.