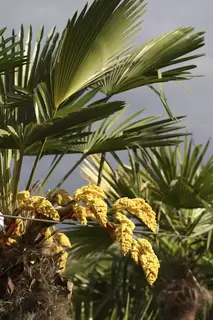 A perfect palm choice for the UK climate and just the ticket for architectural planting, courtyard gardens, containers, Tropical and Mediterranean plantings, Trachycarpus fortunei are the go-to plant to tick all the boxes.
The fan-shaped dark green leaves reach up to 1m in width. Happy in partial shade to full sun in a well-drained soil, Trachycarpus is a low maintenance plant that rewards with a spring display of yellow flowers when mature. These are immensely popular with bees and positively buzz when in full bloom.
Trachycarpus fortunei is known by a couple of common names; Windmill Palm and Chusan Palm.