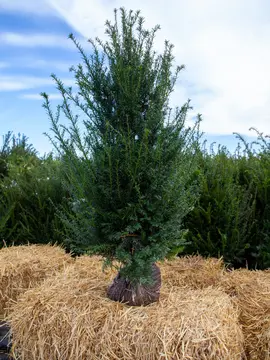 With autumn here, it can only mean one thing… it is root ball hedging season!
This year we are offering multi-buy prices on our root ball Taxus baccata which may interest you!
Save money when buying 20 of the Taxus root ball in one transaction.
These root balls are ready to be planted and raring to grow next year.
| | | | |
| --- | --- | --- | --- |
| Root ball | Size | Rate | Retail price |
| Taxus baccata | 60-80cm | 1+ | £32.50 |
| Taxus baccata | 60-80cm | 20+ | £24.16 |
| Taxus baccata | 80-100cm | 1+ | £35.00 |
| Taxus baccata | 80-100cm | 20+ | £25.00 |
| Taxus baccata | 100-120cm | 1+ | £55.00 |
| Taxus baccata | 100-120cm | 20+ | £37.50 |
| Taxus baccata | 120-140cm | 1+ | £70.00 |
| Taxus baccata | 120-140cm | 20+ | £50.00 |
| Taxus baccata | 140-160cm | 1+ | £160.00 |
| Taxus baccata | 140-160cm | 20+ | £125.00 |
| Taxus baccata | 160-180cm | 1+ | £250.00 |
| Taxus baccata | 160-180cm | 20+ | £175.00 |
| Taxus baccata | 180-200cm | 1+ | £275.00 |
| Taxus baccata | 180-200cm | 20+ | £216.66 |
| Taxus baccata | 200-225cm | 1+ | £350.00 |
| Taxus baccata | 200-225cm | 20+ | £283.34 |