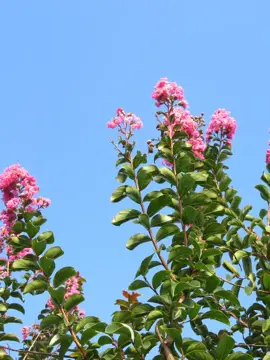 Pretty in Pink. Lagerstroemia indica also known as crape myrtle is an upright, long flowering, deciduous tree that has large clusters of flowers, peeling brown and grey bark and dark green leaves which are bronze when young. This tree is very common in the Mediterranean region.
Throughout summer and autumn, Lagerstroemia indica has crinkly, white, pink or purple flowers in showy, conical panicles and can be up to 20cm long!
The peeling bark and beautiful flowers make this plant a great addition to any garden.
For best results, plant in a sunny position with well-drained soil.