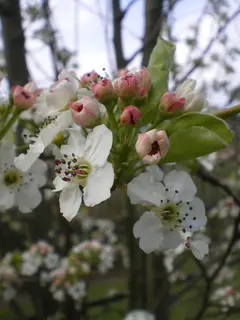 A very popular tree choice due to the uniformity of the shape that is kept over the life of the tree from when young to maturity. The crown is narrow and conical in shape.
Pyrus Chanticleer is one of the first trees to come into leaf in the spring and one of the last trees to lose their leaves in the autumn. A great screening tree option.
The leaves in the spring appear at the same time as the small white flowers which are produced in profusion. In the autumn the leaves take on yellow, orange and red hues before falling.
Pyrus Chanticleer is not only long in leaf, it is a valuable tree for many reasons. It is able to withstand pollution in urban areas, poor soils, will tolerate planting in a wide range of soils and is attractive to bees too. Height 8 to 12m