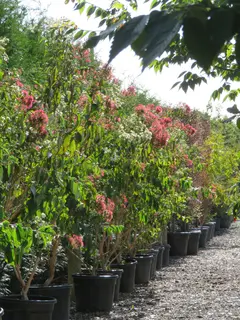 Heptacodium cross the boundary of large shrub - small tree. Wherever it sits, you'll be happy you found a Heptacodium. For late summer to autumn interest, this stunning choice has it all going on.
The butterflies love the small scented white flowers freely produced in late summer. The flowers are followed by colourful red persistent sepals that create their own colourful display for many weeks. This colourful display extends the interest of this fabulous small tree choice in the later summer months into autumn. As if that isn't enough to tempt you, the autumn colour of purple-red foliage is another merit of Heptacodium. Once mature, the bark becomes yellow – brown in colour and peels off in long strips too.
Heptacodium are tolerant of all soil types in full sun to partial shade.
Height 6m, spread 3.5m