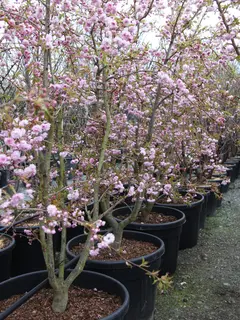 An elegant weeping form of Ornamental Cherry also known as Cheal's Weeping forming a small tree with drooping branches covered in small papery blooms of double deep pink flowers in mid to late spring.
The young leaves are tinged bronze as they emerge turning to glossy green in the summer months.
Prunus 'Kiku-shidare-zakura' is an excellent choice for small gardens where space is limited. Eventual height 5-6m.