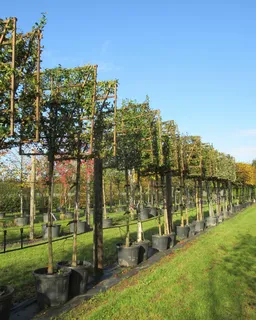 Here is your reminder about our personal tree tagging days with resident experts here at Provender Nurseries.
Each Wednesday in March, our resident tree experts will be on hand to select and tag trees with you for any upcoming projects you may have.
Richard McKenna and Stuart Tickner, both tree experts, will be offering their extensive tree knowledge to you for free.
If you have any tree planting projects on the horizon, they can advise for the right tree for the right place and will help you tag your tree choices from our impressive range on site.
Our tree field is part of our extensive 18 acre cash and carry, with over 800 tree options to select from. With trees in every size from 10L to 450L and from 1.5m to 5m.
Our new multi-stem tree field and main tree field are fully stocked with the best range we have ever held on site and with March being a great month to plant trees, this is a great opportunity to delve into the minds of our tree experts and tag some excellent lines.
Bookable 2 hour times slots are available from 8 am to 2 pm every Wednesday in March. Book in now and bag a slot with our tree enthusiasts.
Please book stating your preferred day and time with Louise on louise.webber@provendernurseries.co.uk with the subject line Personal tree tagging.
Dates: 1 March 2023, 8 March 2023, 15 March 2023, 22 March 2023 and 29 March 2023