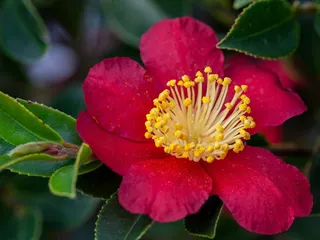 Bringing scented joy at this time of year is one of our favourite plants, Camellia sasanqua.
A Camellia that flowers in the autumn, no matter what the weather. Simple single colour flowers of pink, white or red depending on variety with a subtle earl grey tea scent is enough to bring joy to anyone at this time of year.
These delightful Camellia have pointed, glossy green leaves, smaller than the more commonly known Camellia japonica and will happily flower through the autumn and winter months.
Camellia sasanqua will reach an overall height of 250cm to 300cm in acidic soils.