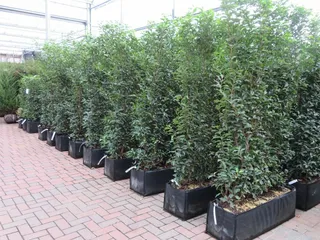 We had a delivery in around 3 weeks ago and these fabulous plants proved so popular, in fact sold out in 2 weeks, that we have ordered more.
The good news is, we now have two different size pre-formed, instant Prunus lus. Myrtifolia troughs to choose from.
Sizes
Height 100cm x Length 100cm x Width 30cm
Height 180cm x Length 100cm x Width 30cm
Fantastic plants that provide a complete green screen in an instant. An absolute must for a hedging plant.
Pollution tolerant, really compact growth so great leaf cover. Full sun to partial shade. Tolerant of any soil type and pH. This hedging plant can be grown in any soil except for very waterlogged soils. Easy to prune, pretty much pest and disease free – what more can you ask from a plant?