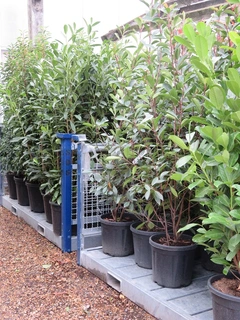 With perfect planting weather now upon us it is hedge planting time. We have over 240 container hedge choices in stock now.
From 10cm height to 3.5m.
Prunus lau. Rotundifolia. 10L at 100-120cm, 18L at 140-160cm, 40L at 180-200cm
Prunus lau. Elly. An upright, neat form of Rotundifolia. 70L at 175-200cm, 130L at 20-250cm
Photinia. 9 varieties in stock. Carre Rouge – a more compact form. Crunchy – coppery new leaves. Red Robin - 10L at 80-100cm, 45L at 200-250cm
Prunus lus. Myrtifolia. 10L at 100-125cm, 130L at 200-250cm, pre-formed troughs at 180cm height and 1m lengths.
Fagus, Lavender, Viburnum, Euonymus, Osmanthus, Myrtus, Griselinia, Ligustrum, Carpinus, Pittosporum, Thuja, Ilex, Taxus, Elaeagnus, Buxus.
Follow this link to see what we have in stock. Use the Height filter to see what options we have in the sizes you require.