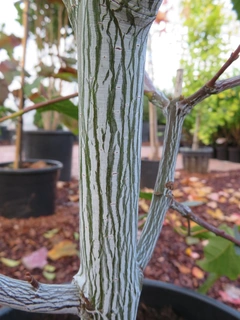 This tree will make you glad that there is a Viper in our midst. The dramatic silvery white and green long striped bark resembles snakeskin.
As with most Acers, Viper has excellent orange autumn foliage colour before falling. In the winter months, Acer davidii Viper comes to life with the decorative bark positively zinging in the winter sunshine.
A great small tree option for all soil types in sun to partial shade. Growing to an eventual height of 5m by 3m spread.