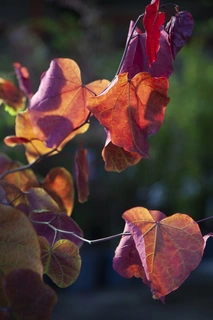 The Chelsea Flower Show plant of the year 2021 is back in stock and ready for the autumn foliage blaze of colour that won the plant this prestigious title in the first place.
Cercis Eternal Flame has autumn foliage colour of fiery orange to yellow changing along the stem from tip to bottom giving an illusion of a flame.
Eternal Flame is a visual feast. Well worth planting as a small tree or large shrub reaching 3 – 4 metres in height. Plant in full sun for the maximum autumn foliage colour.