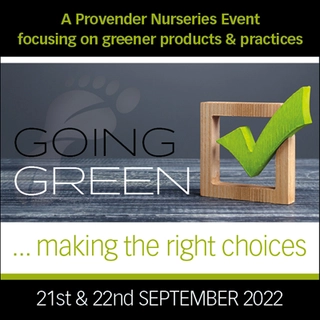 Dates: 21 September 2022 and 22 September 2022
SAVE THE DATE
We are hosting an event at Provender Nurseries. Going Green. Making the Right Choices. Enhancing the environment in a positive way.
When sourcing plants and landscape sundries for projects, do you actively seek out products that are more sustainable in supply or approach? Is it a question customers ask on a regular basis? The ever growing trend towards using products and plants that have a greener footprint is having a positive impact on sourcing, supply and our business practices.

Going Green. Making the Right Choices will showcase various have a positive effect on the environment whether by the choice of ingredients or contribution to the surrounding environment.
Dates
September 21st Wednesday 9am to 3.30pm
September 22nd Thursday 9am to 3.30pm
Please register your interest with Jennifer on jennifer.walker@provendernurseries.co.uk with your preferred day and your food selection from the following: Vegan, Vegetarian, Gluten Free, Meat.
We look forward to seeing you