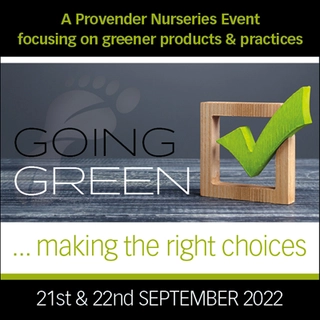 We are hosting an event at Provender Nurseries. Going Green. Making the Right Choices. Enhancing the environment in a positive way.

When sourcing plants and landscape sundries for projects, do you actively seek out products that are more sustainable in supply or approach? Is it a question customers ask on a regular basis? The ever growing trend towards using products and plants that have a greener footprint is having a positive impact on sourcing, supply and our business practices.
Going Green. Making the Right Choices will showcase various have a positive effect on the environment whether by the choice of ingredients or contribution to the surrounding environment.
More to follow next week with a link for booking your place. For now, get that date in the diary!
21st and 22nd September