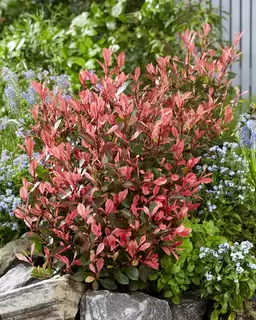 New to Provender Nurseries is this new introduction to market, Photinia fra. Little Fenna.
This compact new introduction has bright pink new foliage that contrast magnificently with the older dark green leaves.
The growth is compact in habit providing dense coverage. Reaching a grand height of only 90cm Photinia fra. Little Fenna is an excellent choice for small hedging, mixed plantings or in pots.
Little Fenna is as hardy as they come in the Photinia world.