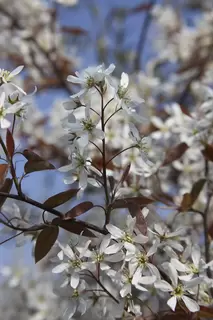 Multi-talented, multi-stemmed Amelanchier canadensis are just about to burst out of their long elegant buds to reveal their starry white flowers.
Never falling in popularity, the demand for Amelanchier canadensis is still strong and will ever remain so as it is a 'good all rounder'.
Often grown as a large shrub / small tree the emerging foliage is bronze in colour, slightly scented white flowers, vibrant orange-red autumn foliage and small black berries.
We have some excellent multi-stemmed options at 200-250cm in either 45L pots or 90L pots.
Pop in before they POP