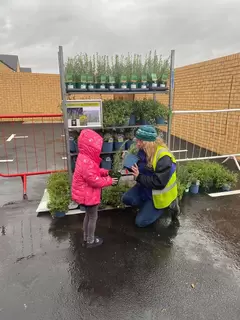 During March 2022, Provender Nurseries in conjunction with Ebbsfleet Development Corporation, provided 1500 trees and 900 plants free to every resident of Ebbsfleet as part of their 'Greening the City' initiative.
Provender Nurseries applied for the tender in late 2021 and were selected by Ebbsfleet Development Corporation to source and supply trees, 2L plants and associated sundries due to their biosecurity credential and Plant Healthy certification in January 2022.
Working closely with Kevin McGeough, Head of Strategy and Placemaking at Ebbsfleet Garden City and Miriam Fagbemi, Ebbsfleet Community Building Manager, Provender Nurseries selected trees and plants that would increase biodiversity to the city with a mix of native trees, trees with high wildlife value, edible fruit trees and smaller plants grown in Kent in peat-free compost and kerb recyclable pots by Provender Nurseries themselves. A large number of trees sourced were of UK origin and selected.
Promoted to residents via leaflet drops and social media campaigns, the trees and plants provided by Provender Nurseries were distributed to residents over five days and five separate drop off points. Supported by volunteers of local businesses and Ebbsfleet team members, residents were allocated either a tree, tree stake, tree tie and organic compost if they had a garden or three 2L plants and a bag of peat free compost if they lived in a balconied residence.
Encouraged as part of the Queens jubilee celebrations, 'Plant a Tree for the Jubilee' uptake of the offer has been beyond expectations with many residents making the most of the opportunity to plant a free tree in their garden and valuing expert advice from members of the Provender Nurseries team on site at each tree giveaway to advise on tree choices. Volunteers were available to help load vehicles, load trees and in some cases to plant the trees for residents themselves.
Surplus trees left over from the tree giveaways will be donated to schools and community projects around Ebbsfleet Garden City by Ebbsfleet Development Corporation.
Richard Burt, Sales Director of Provender Nurseries said 'When the opportunity arose to supply trees and small shrubs as part of the 'Greening the City' with Ebbsfleet Development Corporation we jumped at the chance to be involved in such a great initiative. When we provide plants to our clients, we rarely get to see the final finished article. However, in 3 to 5 years' time we will be able to see the trees planted around Ebbsfleet creating a living legacy for the residents of Ebbsfleet for many years to come.'
Kevin McGeough, Head of Strategy and Placemaking at Ebbsfleet Garden City said ' Ebbsfleet is the UK's first new Garden City for 100 years, and our series of 'Free Tree Giveaway "events helped our new residents to understand what is going to be special about living in their new homes. Firstly, the trees and plants will help to create a green and healthy place to live, enhancing biodiversity and improving future air quality. Equally important is the amazing sense of community that was apparent in each of our five giveaway events, with residents, and volunteers working with Provender Nurseries to choose, transport, and plant the trees and plants which they will watch grown with their families over future generations as Ebbsfleet Garden City itself grows.
EDC would also like to applaud the Provender Team for their support and professionalism in helping us to deliver this exciting initiative.'