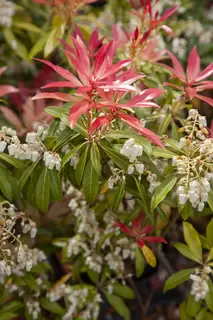 Spring always gets going when the Pieris start to colour up from March to May.
After the colder weather, a welcome flush of bright red new foliage alongside the drooping white bell-shaped flowers could not be more welcome.
The emerging foliage in the spring changes from bright red to pink, cream and then maturing to green.
Pieris Forest Flame is a popular choice in Pieris, taking full sun to partial shade in an acidic soil. As with all ericaceous plants, Pieris do benefit form a good ericaceous feed after flowering.
Reaching an eventual height of about 3m, Pieris Forest Flame is a good plant choice for the middle or back of borders.