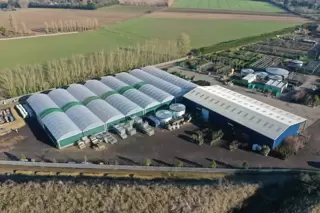 Let us take you BEHIND THE SCENES at Provender Nurseries.
We are so excited about the developments we have undertaken on site that we would like to show you BEHIND THE SCENES and see how our changes on site work for you.
The expansion of our top yard area sprouted from an idea 5 years ago starting with a drawing on the meeting room table with Lego lorries for logistics, culminating in the new building works that have taken place over the last 2 years.
All changes on site have been implemented to ensure a smoother process from ordering, unloading goods in, loading deliveries for customers, collating customer orders, biosecurity checks and a new plant production area.
The new production area will be open for you to peruse potted stock growing on ready to fill our sales beds when fully rooted.
We have had a lot of clients asking what has been going on in the top field. We are now ready to show you BEHIND THE SCENES.
For 2 mornings in February, we are offering BEHIND THE SCENES access to take a look at developments on site, take a tour with one of our team and learn how our expansions will benefit your business as well as ours.
We would like to invite you along to our BEHIND THE SCENES tours event on 24th and 25th February between 9am and 1pm.
Each guided tour will take around 1 hour during which we will be able to answer any questions you may have while we show you around the new top yard including new areas of plant production, new customer order bays, stock isolation and also a look around our website (we've been making changes there too!) in the new staff room.
Whether you are a regular customer or have not yet visited the nursery, this is a great opportunity to see what Provender Nurseries are doing BEHIND THE SCENES to help your business leap ahead into 2022 and beyond.
Come along, bring your quoting team or plant buying team and see how much we can offer you as a business.
Please follow the link below to book a space on our BEHIND THE SCENES tours