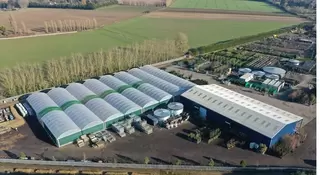 Let us take you BEHIND THE SCENES at Provender Nurseries.
We are so excited about the developments we have undertaken on site that we would like to show you BEHIND THE SCENES and see how our changes on site work for you.
The expansion of our top yard area sprouted from an idea 5 years ago starting with a drawing on the meeting room table with Lego lorries for logistics, culminating in the new building works that have taken place over the last 2 years.
All changes on site have been implemented to ensure a smoother process from ordering, unloading goods in, loading deliveries for customers, collating customer orders, biosecurity checks and a new plant production area.
The new production area will be open for you to peruse potted stock growing on ready to fill our sales beds when fully rooted.
We have had a lot of clients asking what has been going on in the top field. We are now ready to show you BEHIND THE SCENES.
For 2 mornings in February, we are offering BEHIND THE SCENES access to take a look at developments on site, take a tour with one of our team and learn how our expansions will benefit your business as well as ours.
We would like to invite you along to our BEHIND THE SCENES tours event on 24th and 25th February between 9am and 1pm.
Each guided tour will take around 1 hour during which we will be able to answer any questions you may have while we show you around the new top yard including new areas of plant production, new customer order bays, stock isolation and also a look around our website (we've been making changes there too!) in the new staff room.
Whether you are a regular customer or have not yet visited the nursery, this is a great opportunity to see what Provender Nurseries are doing BEHIND THE SCENES to help your business leap ahead into 2022 and beyond.
Come along, bring your quoting team or plant buying team and see how much we can offer you as a business.
Please follow the link below to book a space on our BEHIND THE SCENES tours
https://www.provendernurseries.co.uk/webshop/events/117967/behind-the-scenes
How to book
Click on the date you wish to book either Thursday 24th February or Friday 25th February
Select the time slot you wish to attend, state how many tickets you would like to book
Press the ''Book Now'' button
Fill in your customer details. Please state any dietary requirements you may have
Confirm booking
Fill in the required details in Overview Basket
Press the ''Go to Checkout'' button
You will need to log in to the trade zone to complete your booking
Tickets are free, please choose "Pay at collection" as a payment method in the checkout so you don't have to enter your credit / debit card details
Agree to our terms and conditions
Press ''Complete Order''
You will then receive an email stating your booking time
We look forward to showing you around and catching up over a cup of tea and some hot food!
*If you have any issues with your login or email confirmation, please email admin@provendernurseries.co.uk stating your company name and your customer reference*