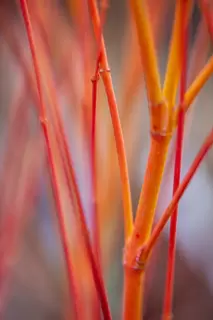 A variety of Japanese maple with the most delicious winter stem colour, enough to rival any Cornus. Acer Bi Ho is sometimes called the Golden Bark Japanese maple.
Acer Bi Ho has stems of golden-yellow and orange that are beautifully vibrant in the winter months when all the foliage has dropped. The foliage emerges salmon-pink in the spring before turning yellow-green and then vibrant yellow -orange in the autumn.
Acer Bi Ho is a firecracker of a plant and worthy of a solitary specimen plant as well as in mixed borders. Upright in habit reaching a perfectly manageable 2m in height and spread, Acer Bi Ho really will light up your life!