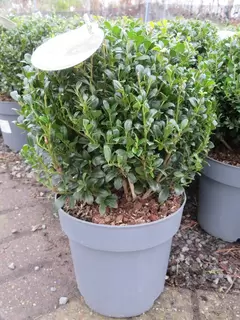 Ilex Luxus has looks, strong growth, compact growth habit, requires minimal maintenance, the dark green glossy leaves hold their colour all year round and most importantly Ilex Luxus is disease resistant.
It is an ideal choice for formal gardens, low hedges, topiary reaching an eventual height of 60cm in total if left unpruned. Ilex Luxus is a male plant resulting in no berries after flowering.
Excellent for use in large commercial plantings, mass planting and for use in domestic gardens, balconies, patios and pots. Tolerant of pollution too, ideal for urban planting.
Perfect replacement for Box plants as Ilex Luxus is disease resistant to Buxus Blight and Box Caterpillar Moth.
In stock now: