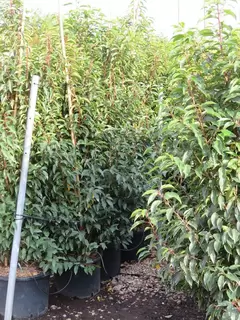 No Need to Wait – Hedging Options in stock now. Options beginning with P!
Autumn is the most popular time of year to plant hedging plants and we know that root ball plants are on order and at present we are awaiting a confirmation of delivery date.
But, with such a popular range of plants we hold a massive range of containerised hedging plants in stock all year round. At present we have over 159 options on site to choose from.
Let's shine the spotlight on a few options we currently have on site that begin with P- so many options to choose from!
Prunus lau. Elly. An excellent upright growing form with exceptionally glossy leaves
Photinia x fra. Carre Rouge. A newer selection of Red Robin with much more compact growth and an intense red colour to the new foliage
Photinia x fra. Pink Marble. A very popular choice with splashes of pink and white
Photinia x fra. Red Robin. What size do you want? We probably have it!
Prunus lau. Rotundifolia. 10L grown by us at Provender Nurseries here in Kent
Prunus lus. Myrtifolia. Just one of the best hedging options around. Compact growth, tough as they come. Indestructible and rather lovely too!