Pittosporum tenuifolium 'Tom Thumb'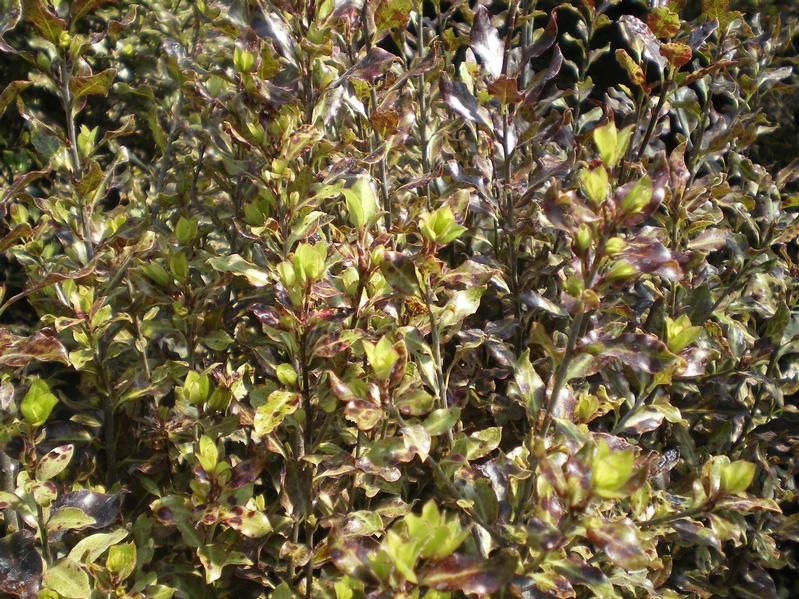 Description: An excellent small form of the popular evergreen Pittosporum. Slow growing eventually to 1 metre, forming a dome of unusual chocolate coloured leaves which are richly glossy. Young shoots in spring are green which then speckle and turn bronze purple. The flowers are small but noticeably honey-scented and also chocolate-purple the same as the leaves.
Uses: Excellent for container growing but also at the front of a border. Mixes well with grasses and as a contrast for yellows and silver plants.
Climate/Position: Full sun or partial shade. Best if site is sheltered.
Height/Spread: A dwarf form reaching only 1 metre x 60 cm.
Soil Requirements: Any well drained soil.
Pruning: Non required. Light shaping may be done in July.
Special Requirements: Avoid cold winds.
Additional Interest: Known by the Maori of its native New Zealand as kohuhu or kohukohu. Noted for evergreen foliage, usually black stems, late spring flowers which are honey scented especially in the evenings. Plants can be found with hermaphrodite flowers, or separate male and female flowers or with male or female flowers only. Some cultivars are very similar and only readily distinguished by the sex of the flower. The species grows wild in the coastal and lower mountain forests of both the North and South islands up to an altitude of 900m.
Many new cultivars now introduced. Also grown as a foliage plant for the floristry industry.