Picea pungens 'Glauca Globosa'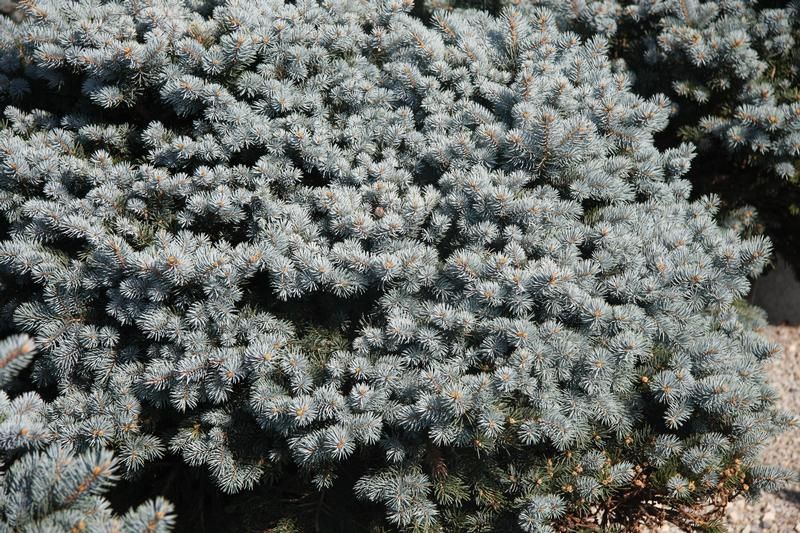 Description: Dwarf conifer with dense globe-shaped habit and stunning glaucous blue leaves.
This evergreen blue-needledc onifer has a distinctive flattened top and thopugh slow growing reach 1 metre' tall and to 1.2 metres wide over time.
The blue needles are attractive throughout the year, but are brightest when they first emerge in spring.
Climate/Position: Full Sun but tolerates some light shade
Height/Spread: Height and Spread - (in 10 years) 45-75cm x 60-75cm eventually may reach 100 x 120cm
Soil Requirements: Does best in rich, moist soils which are free draining although established plants have some drought tolerance.
Pruning: Prune out any upright shoots to maintain globose form
Special Requirements: Typically sold as a grafted plant
(synonym of Picea pungens 'Globosa' )
A popular Dutch introduction though its origin is shrouded in some mystery. Supposedly 'Glauca Globosa' originated as a seedling at a Dutch Nursery in 1935. However, the original plant had never been recorded. It appeared in the nursery trade in Holland after the similar American plant Picea p. 'R.H. Montgomery' was named, and Layne Ziegenfuss found a specimen of 'Glauca Globosa' in a private estate that was accessioned in 1934. A core sample of the trunk verified that date.