Phyllostachys aureosulcata 'Spectabilis'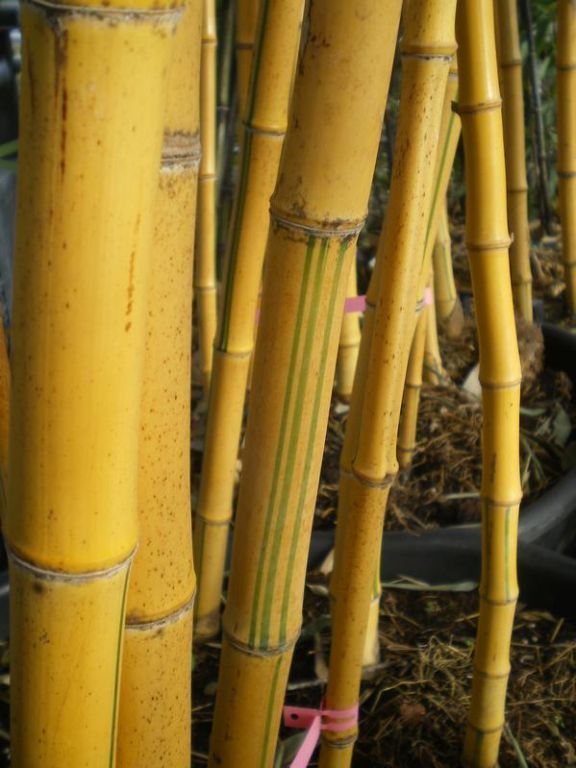 Description: An attractive, tall hardy clump forming evergreen bamboo. The canes are golden-yellow fading to darker yellow with age and each cane is green-grooved,on alternate sides between the nodes and show as interesting green streaks . For additional interest remove leaves off the lower stem and then in the sunlight the stems will show the rich colours of yellow and green. This colourful variety looks great alongside the ebony-black canes of the black bamboo, Phyllostachys nigra.
Uses: Useful as a specimen plant or for screening purposes. Ideal for creating an oriental or tropical feel. Also good in large containers so can be used in the smallest of gardens too.
Climate/Position: Full sun or partial shade best protected from high winds
Height/Spread: Fast growing, easily reaching 3m x 6m and more
Soil Requirements: Rich, moist, well-drained soil.
Pruning: No pruning required though old canes can be removed to ground level when too large or discoloured.
Special Requirements: If space is limited or to avoid spread of the bamboo into a large spreading clump then it is best to plant in a large container or surround the roots with a non-perishable barrier that restricts the plant's spread. Synonym of Phyllostachys aureosulcata f. aureocaulis
Additional Interest: