Nandina domestica 'Obsessed'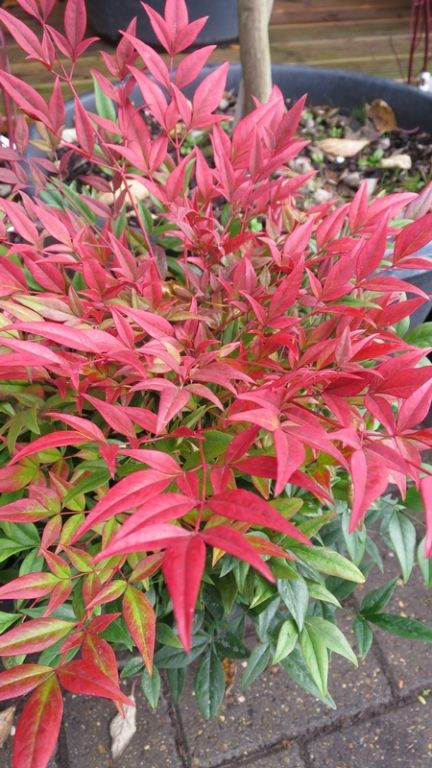 Description: A lovely compact, upright, dense, evergreen shrub bearing with lance-shaped, dark green leaves which are bright red when young. Conical panicles of small white flowers in summer followed by green berries, turning bright sealing-wax red which look wonderful in autumn together with the leaves which flush crimson.
Not actually a bamboo but is infact a barberry related to Berberis.
Uses: An excellent choice for patio pots where it will provide year-round interest, it also makes a colourful and interesting addition to the front of a shrub border.
Climate/Position: Full sun will produce the best colouring, but partial shade is also acceptable. Plant in a sheltered position.
Height/Spread: Height and spread to 1 meter.
Soil Requirements: Prefers a rich soil which is acid to neutral. Moist conditions in summer ensure lush growth but soil should not remain wet in winter. Tolerant of drought once established.
Pruning: A low maintenance shrub. Can be pruned to control plant height if needed. The tallest/oldest canes should be cut to the ground or to different heights in early spring to provide more foliage toward the ground and promote a denser plant.
Special Requirements: Plant in a sheltered postion in lime free soil. Berries are mildly toxic but birds love them.
Additional Interest: Plant breeder's Rights apply (PBR).
Found throughout the Far East where its heavenly properties supposedly give it the power to dispel bad dreams. In Japan, Nandina is planted near doorways so that when you wake from a nightmare, you can step outside and tell the shrub your dream so that no harm will follow.
It was first introduced to America in the early 1800s. The canes are used for toothpicks.